4 Ways to Love the Healthy Foods You Have to Eat
The following guest post was contributed by Melissa Tamura.
Isn't it just a bummer when you want to stay healthy but also want to eat what tastes good? Sometimes it seems that there are no real compromises for marrying what you love to eat with what you have to eat.
Of course, you could buy the low-calorie, low-fat, low-sugar products, but a lot of them offer only slightly lower calories, fats and sugars and add other not-so-healthy products to help preserve them. So how can you successfully love what you have to eat? Here are some ideas:
1. Spice Up Dishes with Foods in the Dietary Guidelines
One great aspect of the well-balanced diet is that meats, fruits, veggies, dairy and bread are all there. So it's not that you can't eat what you want, it's that sometimes we throw the extras on like mayonnaise, fatty dressings, sugars, and the rest, which could throw your balanced diet out of proportion.
This doesn't mean that you can't dress up your foods, however. With a little creativity, you could have the extras without stepping far outside your guidelines. For instance, did you know that mixing plain yogurt with pureed cucumber and various seasonings makes a great topping for sandwiches? Also, if you want a glass of lemonade, instead of adding white sugar, you could add pure maple syrup – it tastes amazing!

2. Bake Chicken In Its Own Stock
If you're on a low-everything diet and want to steer clear of too much of anything that could add on pounds, increase salt intake or raise cholesterol, you could try eating boneless, skinless chicken that has been baked in its own stock.
As you know, chicken stock adds amazing flavor to otherwise bland dishes, so why couldn't it work for itself? By throwing a chicken breast in the oven at about 400 degrees and letting it bake for about 30 minutes (time could vary depending on the size and thickness), turning it often, you'll have a tasty chicken breast without having to add a thing for flavor.
3. Break Out the Juicer
The home juicer is an awesome way to get your daily intake of fruits and vegetables in a glass. What's amazing about these machines is that they allow you to juice just about anything (celery, carrots, cucumbers, etc.). After throwing in an apple, some grapes and maybe even a pineapple, you will have created a drink you'll love that is incredibly healthy for you.
4. Buy Salt-Free Seasonings
If you feel that you simply cannot live without some type of seasoning on your food, in addition to using healthy foods to spice up dishes, you could buy pre-ground salt-free seasonings. Some stores are dedicated specifically to spices and will create blends like chicken seasoning that have so much flavor that they don't need salt.
There's absolutely no need to feel deprived of flavors you love in the name of health. With a little creativity, you could easily have the best of both worlds.
By-line:
This article was written by Melissa Tamura, who writes on the topic of online engineering degrees for the Zen College Life Blog. She would love to hear from you at [email protected]
—————
* If you are interested in writing for Sweets Foods Blog, check out the Guest Post Guidelines here.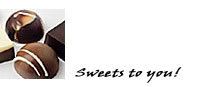 If you enjoyed your read:

Subscribe in a RSS reader or get updates by Email!
Photo Credit by Goldemberg Fonseca