Poll: How Important is Your Sweet Tooth?
I like polls and I know many of you like them! After finished my last poll only for manage the days of my posting (the result for majority…the days don't matter) I'll begin to make what we summarized in my post 9 pictures worth thousands of words for this new year!
New sections will be available in which these polls will done on regular monthly basis. Polls are funny, entertained and sometimes give unexpected results 😉

The following poll is very familiar ;)…what do you feel about it?
Please vote on the left & up of your screen and comment in the correspondent area 🙂
I bet that you'll guess which I choose from the poll!!
How Important is Your Sweet Tooth?
Huge – Immense: I adore sweets impossible without them!
Middle Range: Very frequently when I can.

Little – Petit: From time to time some sugary things.
No Way: Sweets aren't essential at all!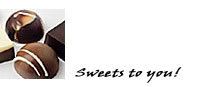 If you enjoyed your read, Subscribe to my RSS feed or get updates by Email!
More Sweetness to Read:
The Power of Dulce de Leche – Indulge Yourself with This Sweet Delight!
Sweet White Wines – Instant Smiles
Cheeses and Tiramisu Dessert Making a Gift in Your Mouth
Turron Torrone Nougat – Tempting Confectioneries You Should Enjoy!